Giza Governorate is one of the most important and oldest cities in Egypt in terms of its establishment. It has gained a distinguished position since antiquity due to its proximity to the Nile. It was the Pharaonic capital in ancient history and a crossing between the capitals of the Islamic state through the Nile River and the seat of the first and largest Egyptian university.
Administratively, Giza is considered an independent governorate, but it follows Greater Cairo, which includes the governorates of Cairo, Giza, and Qalyubia. Giza extends along the Nile River from north to south, where most of its neighborhoods are located on its western bank, except for only two areas of which are situated on the Nile's eastern bank.
As for its borders, from the north, it is bordered by Alexandria, Beheira, and Menoufia, from the south by Fayoum and Beni Suef, and from the west by the New Valley.
Giza may not be familiar in the minds of some except for its inclusion of the Sphinx, Egyptian pyramids, and some ancient Pharaonic archaeological sites, but what you will experience tourism in Giza is a varied and continental meal that attracts the attention of tourists of various tastes and desires. Giza tourism is historical, cultural, and recreational tourism that is not devoid of beauty and tranquillity. Shopping and purchasing travel is soothing. Whatever your interests are, come to it, and you will not be disappointed.
The most important landmarks of Giza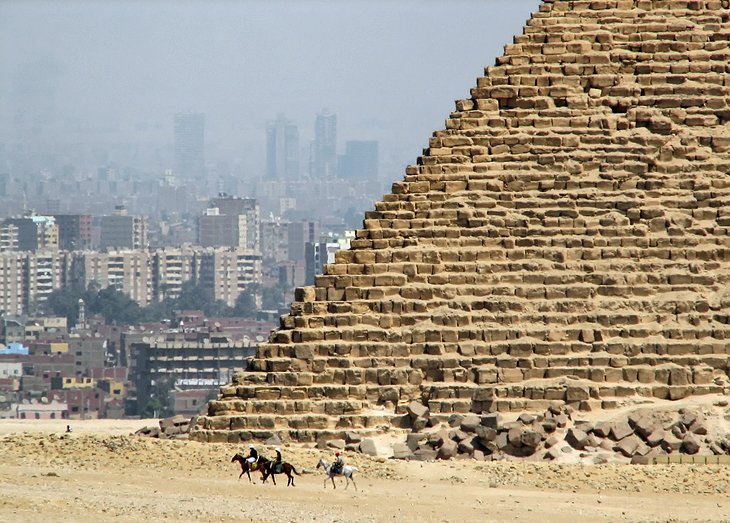 Giza Governorate is well-known for the variety of its tourism attractions. Suppose you are a tourist interested in antiquities, history, and culture. In that case, you will find the Egyptian pyramids in front of you, including more than just the three famous pyramids: the Islamic, Coptic, Museums of Pharaonic, Modern History, and the El Sawy Culturewheel, where you can attend cultural and artistic evenings.
If you love landscapes and different architectural types, the fish garden, Nile excursions in the Nile's center, and the Bahariya Oasis heals the most severe diseases.
If you come with family and children, your youngsters will find their purpose at amusement parks such as Magic Land and Dream Park, Adrenaline Park, Fagnoon Village, and the Zoo, while your wife will find her purpose in shopping malls that sell the most recognized worldwide brands of products. And don't forget to enjoy some romantic moments among the smells of flowers and the grandeur of trees that the Orman Garden has to offer.