The island Bali is one of the top-visited tourist and cultural cities in Indonesia, with its long history and stunning landscapes made it worthy to bear the title of heaven on earth. Bali tourism has been classified among the most beautiful tourist cities in the world that attract travelers.
The central island consists of smaller islands and rural villages, and the islands of Bali are famous for a number of breathtaking landscapes that attract the highest tourist groups in the history of tourism rates in Indonesia, such as graduated rice farms, caves, and volcanic mountains, rocky waterfalls, sandy and rocky beaches.
In addition to a number of ancient Hindu and Buddhist temples dating back to the first centuries AD, and memorials that showcase the ancient struggle of the Balinese against colonialism, with a range of meadows and recreational parks ideal for relaxation, children's fun, and family picnics.
The most important tourist places in Bali
We discuss the best tourist places in Bali during the article, including the best honeymoon places, which represents a comprehensive guide for you during tourism tours in Bali.
Kuta Beach
It is the most popular beach resort in Bali and is visited by foreign tourists during tourism tours in Indonesia. Still, it can be considered one of the beaches of Bali, which gained a greater reputation than the island itself, with its clean sand and clear water, roaming paths, and recreational water activities, on top of which is surfing. Kitesurfing and beach soccer, with warm and pleasant sunshine tempting, for a sunbathing and massage session for a small fee while enjoying the spectacular sunrise and sunset.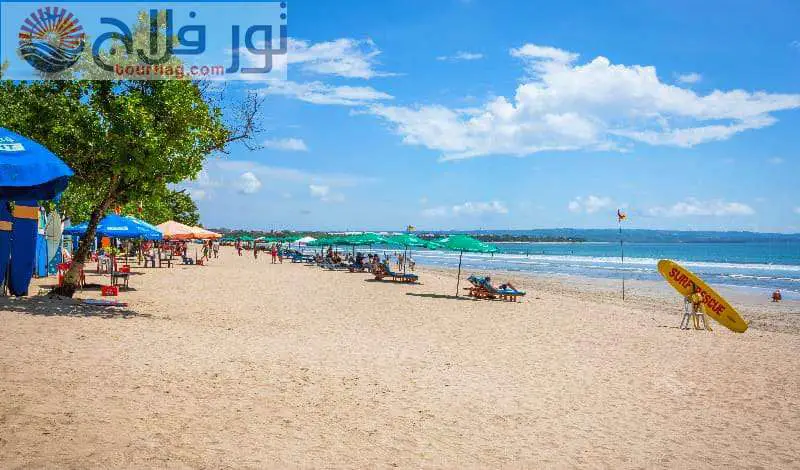 Kuta Beach Resort and Beach is also characterized by the growth of coconut trees on the southwest coast of Bali and flocks of water turtles that appear from time to time, with the diversity of accommodation options that it provides from cheap guest houses for luxury hotels and shopping options that swing between street vendors selling cheap traditional local goods to centers Trendy shopping.
Kuta Beach is also famous for its nightlife sessions held by locals with great folk dances.
Sanur Beach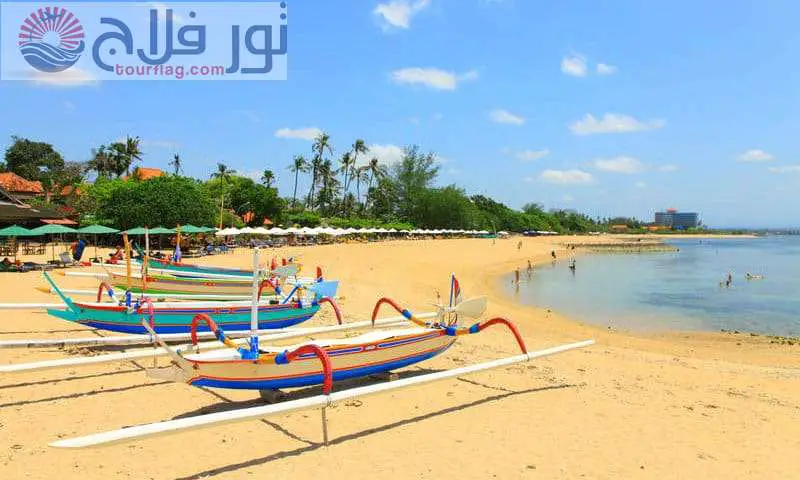 Sanur Beach is one of the most important and beautiful tourist attractions in Bali, it is a series of beaches located on the southern island of Bali, and it provides many recreational activities and fun paths that differ from other beaches of Bali, all of which come together under one name, which is Sanur Beach.
Where the coast of Sanur Beach provides a group of ancient and upscale hotels of legendary construction, with some water and beach activities such as swimming, fishing, windsurfing, diving, and diving among the most beautiful shapes and colors of coral reefs and marine forests, in addition to experiments launching kites for which an annual festival is held, Paragliding, kayaking, and cycling.
Sanur Beach also offers a range of stalls selling local flavored seafood and light drinks, cold drinks, and shopping for popular handmade products.
Nusa Dua Beach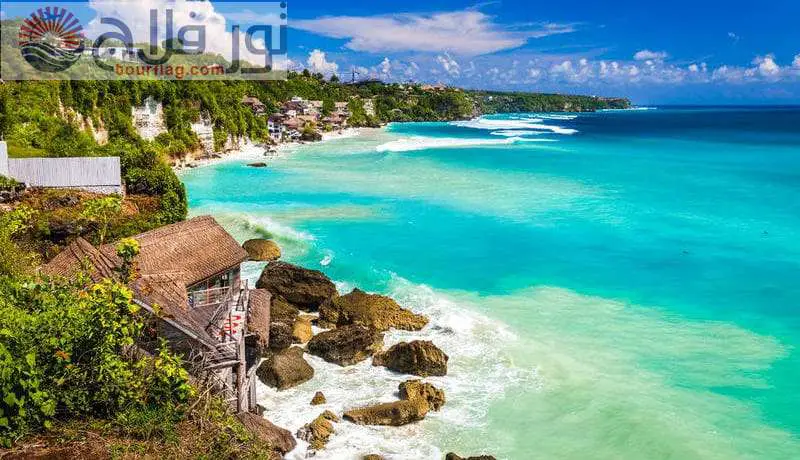 One of the high-end Bali resorts that provide a high and integrated level of hotel and entertainment services that will appeal to you, your family, and your young children when you choose to spend a day at the Nusa Dua resort and beach during a tourism trip in Bali, with the soft white sands and calm clear waters ideal for practicing water sports and green gardens, they rest A set of integrated facilities such as luxurious beach hotels surrounded by greenery and palm trees, a shopping center and branches of the most famous international chains and cafes, wherever you can spend your vacation or your enjoyable day in happiness.
Seminyak Beach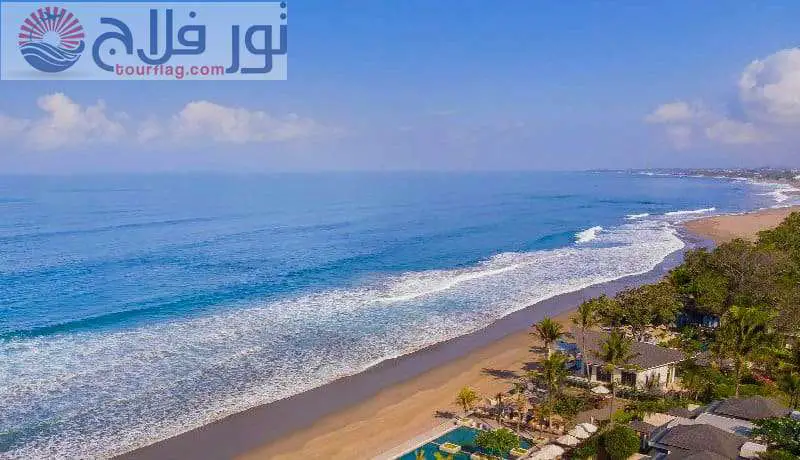 If you are planning for a fun-filled, thrilling vacation and an exciting atmosphere when traveling to Bali, Seminyak Beach is the best beach in Bali to satisfy your desire; Where high-end 5-star beach bars and clubs are spread, in which you can have a luxurious glass of different and varied types of wine, or have a warm sunbath with different forms of entertainment.
Seminyak, a beach with fine white sand, stretches 5 meters from the Bali Islands, from Kuta to Canggu. Thus, Seminyak Beach is considered one of the ideal beaches in Bali for holidays, as well as the best honeymoon spots on the Indonesian island of Bali.
Jimbaran Beach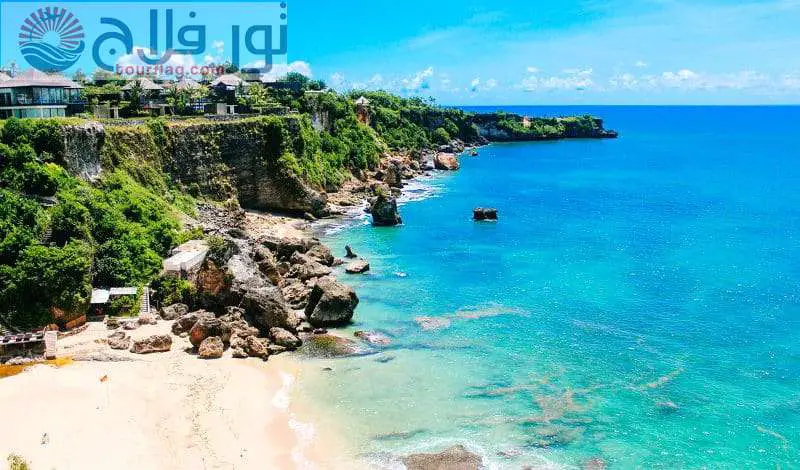 If you have chosen to travel to Bali for relaxation and relaxation in tranquility, or searching for the best honeymoon places characterized by its quiet romantic atmosphere in the cities of Indonesia, here is this long sandy beach that extends up to 3 km from the coast of Bali island.
Jimbaran Beach is a wonderful opportunity to mingle with the islanders from fishers, as you can attend fresh fishing operations and return to them early in the morning, or enjoy the beauty and tranquility of the beach before the sun rises and the start of the fishing movement, and perhaps attend the wonderful moments of sunrise and sunset on it. You can also set up delicious barbecues on the beach or have a delicious meal of seafood with a local drink at one of the famous coastal restaurants.