Jakarta is the capital city of Indonesia and its administrative, economic, and commercial capital. It is the most important city in Indonesia at all levels. Jakarta is a city with a long history extending since its foundation in the fourth century. Many important events have passed through it that left behind a historical and cultural legacy that cannot be ignored.
Jakarta Tourism forms the most prominent part of the Indonesia Tourism Guide; This is due to several important factors, most notably the distinguished location on the northwest coast of Java Island; It is the main entrance to Indonesia. The city of Jakarta also enjoys picturesque nature, lush parks, monuments, popular markets, modern malls, in addition to its distinctive beaches.
Jakarta is almost the whole city, everything you dream about; To be able to spend a special vacation, you will find it inside the city of Jakarta, which will take you on a quick tour around the most prominent tourist places.
The most important gardens of Jakarta
1- Taman Mini Indonesia Indah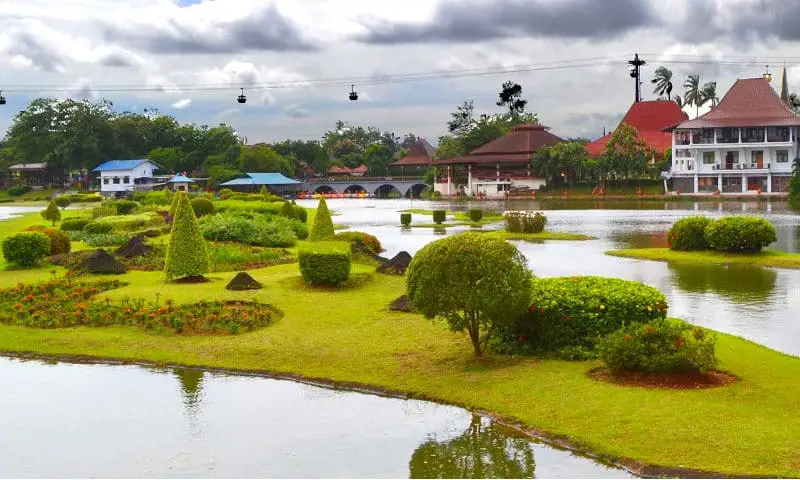 "Taman Mini Indonesia Indah Park" or "Indonesia Beautiful Mini Park" is one of Indonesia's most famous tourist places in general. It is an integrated amusement park, which will allow you to learn closely about the culture and heritage of Indonesia; It contains models of all 27 provinces of Indonesia.
Taman Mini Indonesia Indah Park is among the most important tourist places in Jakarta for families. It contains museums, amusement parks, botanical gardens, a mosque, restaurants, cafes, event halls, and a huge artificial lake.
The park is located in the southeast of Jakarta, on the "Bogor-Punchak" road, and extends over an area of ​​250 hectares. It is big in every sense of the word. You also have more than one choice; To move between parts of the park, either by the small train inside the park, by cable cars, or by boat trip inside the lake.
2- Ancol Dreamland 
Ancol Dreamland Park is one of the most popular amusement parks in Indonesia. All the fun games you can imagine being inside this fun park. The park is located north of Jakarta, and you can go there by bus or by taxi.
Ancol Dreamland Park contains all the attractions, from a theme park for adults and children, a water park, an artificial lake, a conference hall, an art center, an open-air theater, and a handicraft bazaar. You and your family members can do many fun activities inside it, most notably horse riding, boating, and fishing, as well as enjoy riding exciting games.
3- Ragunan Zoo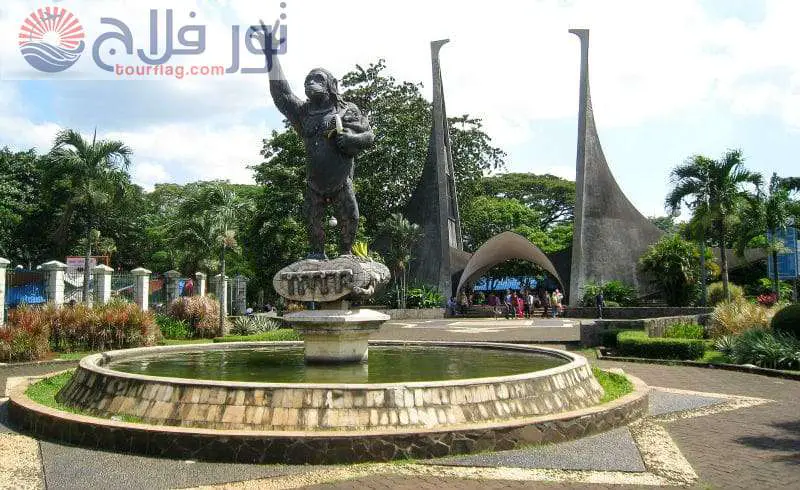 Ragunan Zoo is about 20 km from downtown Jakarta and can be reached by taxi or Trans Jakarta buses.
Ragunan Zoo is one of the most important tourist places in Jakarta for families; Because it offers children fun activities, most notably watching and interacting with animals, the park also contains many of its facilities, most notably a mini zoo for children, playgrounds, a lake for boats, dancing fountains, and wonderful animal models.
Ragunan Zoo is, in fact, a zoo that brings together more than 2,000 animals and a botanical garden with its amazing biodiversity. Inside the park, you will find many endangered animals and many birds and aquariums containing many marine creatures and colorful fish.
4- Taman Suropati Jakarta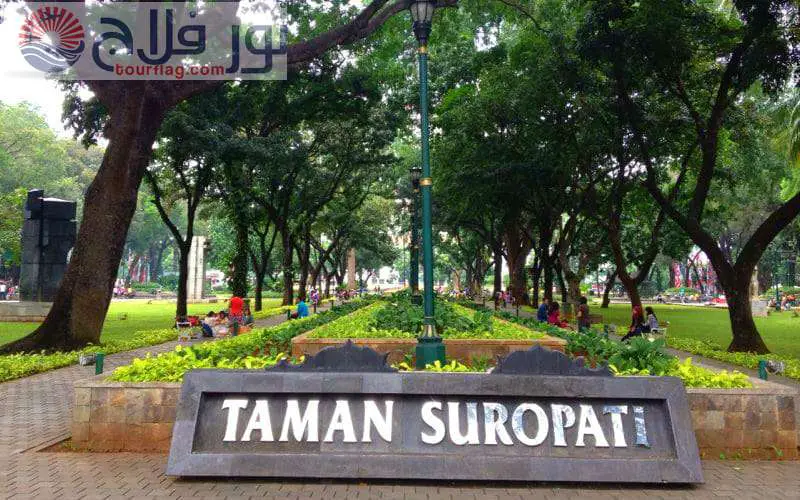 Taman Surubati Park Jakarta is part of the Surupati Theme Park, located in the center of the capital city of Jakarta. The park is open 24/7 hours a day. Still, from the experiences of tourists, they confirmed that the atmosphere inside that park at night is much better, as during the day it is more crowded, and at night, mobile food carts are available, and there are some local singers, and you can park your car to Inside the park.
There are six memorials within the Taman Surupati Jakarta Park, and vast green spaces and lush trees characterize it. And above all, it allows visitors to learn, by learning about some of the monuments within it.
5- Waterbom Jakarta
Waterpark Jakarta is one of the most enjoyable tourist places in Jakarta for families; Because it offers huge games and rollers in multi-space swimming pools. The park is located near the Soekarno-Hatta International Airport area.
Waterbom Jakarta offers you and your family the most enjoyable times amidst many wonderful water games. Some photographers are spread within the park, who have many cameras for underwater photography if you wish. Waterbom Jakarta also has changing places, clothing and souvenir shops, and snack bars.
6- Menteng Park
Menteng Park is a new residential complex in downtown Jakarta, consists of three towers, the number of 37 floors, a variety of apartments ranging from 28 m 2 up to 72 m 2. It can not be said that the location of Mentting Park is very strategic. Still, its advantage is that it is located in a quiet neighborhood, within easy reach of downtown Jakarta, about 75 minutes from the airport.
Around Menteng Park, you will find many government offices and high-end villas lined up on both sides, and near Menteng Park, what is known as the Cultural Center in Jakarta, or Taman Ismail Marzouki, where you will find inside, a cinema, a theater, a planetarium, and many exhibitions, as well as gardens the vast.
7- Taman Wisata Alam Mangrove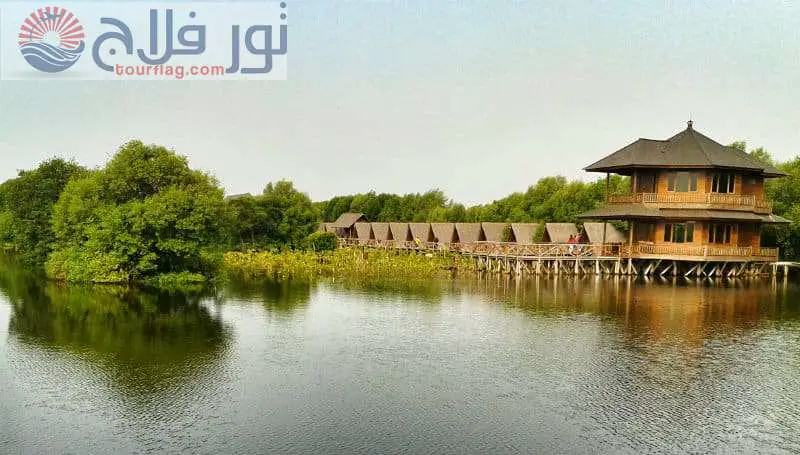 Taman Wisata Mother Mangroves is the perfect destination for nature enthusiasts in the great outdoors. The mangrove forest offers you vast areas of plants, and you can enjoy inside it watching many pictures of interesting wildlife, represented by many types of birds and reptiles. There is a mangrove lake that you can take a boat trip inside, to see the area around the forest, a trip that takes about 20 Accurate.
Taman Wisata Mother Mangrove Park is a very entertaining park for children, but it is not recommended to visit on weekends; It is crowded with locals, especially since the entrance ticket has a small value, compared to the prices allocated to tourists.
8- Atlantis Water Adventure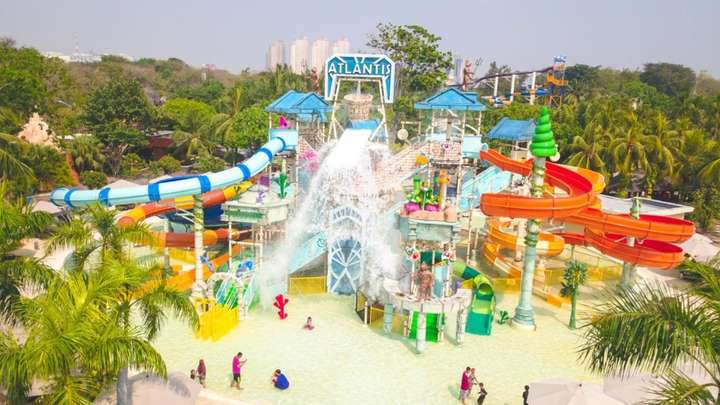 Atlantis Water Adventure Park is one of Jakarta's most popular tourist destinations, as it gives its goers fun times amidst exciting water games and activities. The park contains two large swimming pools, one for adults and the other for children. There are the most beautiful water slides, with different heights and artificial waves; it also has a circular water canal, with the water depth reaching knee level.
When you are done with swimming and exciting water games, you can grab a meal or a drink from one of the kiosks located throughout the Atlantis Water Adventure Park, located within the Angol Dreamland entertainment area, the most prominent tourist areas in Jakarta for families.
9- SnowBay Waterpark
Don't let the name fool you, the snow is only about the overall décor of the park, but it is a complete water park village. The Snowy Water Park is located within a large amusement park, and there are many swimming pools, giant slides, and water slides.
The Snowy Waterpark also has safety deposit boxes, rental booths, and several kiosks selling fast food and beverages. The park is a cheap entertainment place. Its entrance fees are not exaggerated, but it is preferable to avoid visiting it during public holidays and weekends; It gets very crowded during those times.