Hurghada is regarded as one of Egypt's most attractive and well-known tourist destinations. Therefore, Hurghada became the governorate's capital since it is one of the most significant cities in the Red Sea Governorate. Hurghada's population is 90,000 people and roughly 40 kilometers.
Hurghada is called the capital of magic and beauty; This is due to the purity of its waters, its mild climate, its clean air, and the presence of all marine sports and games that attract large numbers of tourists, which led to high demand for Hurghada trips. So today we are going to talk about the best tourist places in the city; to visit them, and enjoy their scenic beauty, so let us get to know the most famous travelers.
Hurghada occupies a prestigious tourist center globally in terms of its breathtaking beauty enjoyed by many; The beauty of Hurghada is concentrated in the presence of coral reefs and colorful fish that adorn its waters and the company of many tourists areas that amaze those who visit them with their beauty. Therefore, it is possible to inventory tourism places in Hurghada, which we will learn about them in detail in the coming lines.
Hurghada has many tourist places: the Sand Museum, the Giftun Islands (Nawras Island), the plateau, the Airport Road area, El Gouna, Sahl Hasheesh, and others.
1- El Gouna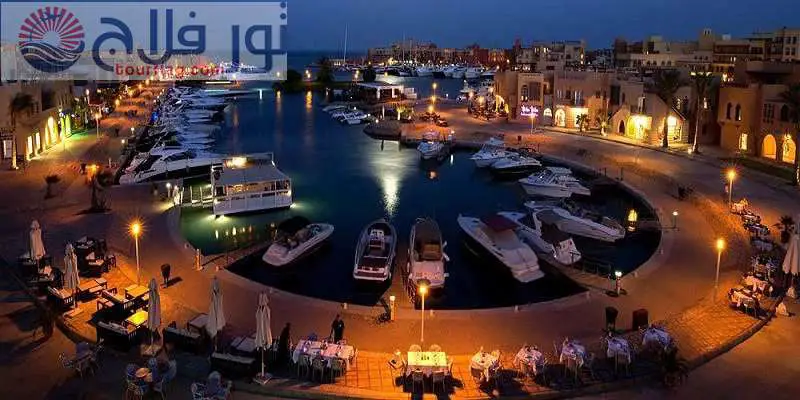 One of the most beautiful resorts in Hurghada, where you can feel rest; Because of its calm atmosphere and the beauty of its waters; It has many beautiful beaches that attract large numbers of tourists. El Gouna is characterized by the two most beautiful beaches: 
Zaytouna Beach and Mangroovy Beach; Where various marine sports such as water skiing, windsurfing, windsurfing, and diving.
It has extensive golf courses and spa centers that provide excellent services to tourists through warm water and massage sessions. In addition, many restaurants and cafes give the luxury of the service to tourists and some performing arts. It includes 14 hotels, a small airport for private planes, and a large, fully equipped hospital.
2- Sahl Hasheesh
Sahl Hasheesh is known as one of the best tourist destinations in Hurghada, as it contains six first-class tourist resorts in addition to the nearby resorts such as Island View, Club House, and others. However, it depends on the tourism of the wealthy; As it provides all tourist services, it includes a large cinema complex next to the beautiful markets, and a bridge was built above the sea so where tourists can enjoy the fresh air and the clear sky.
You can also enjoy watching Pharaonic city while scuba diving. It also contains an international yacht marina, sports centers, horse riding clubs, and the most prominent golf courses.
3- Makadi Water World
This is one of the beautiful cities with water games; It contains 50 water games suitable for all age groups. There is an area dedicated to children's fun, and it also includes a large number of swimming pools, cafes, and restaurants. Many tourists come to this city to enjoy water games with their children.